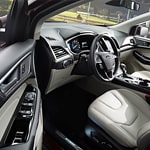 The Ford Edge is a popular mid-size SUV that looks great from any angle. That's because the Edge is built with great design in mind. Here's a look at some of the top design features of the Edge.
The Ford Edge announces its presence with powerful LED headlights and LED taillights. These lights not only look great, but they also allow you to see better at night and be seen by other traffic on the road. If you are looking to attract some serious attention, the Ford Edge offers the sporty ST model. With the ST model, you not only get a powerful 2.7L V6 EcoBoost® engine that gives you up to 335 horsepower, but you also get more aggressive looks that will turn heads.
See why the Ford Edge is one of the best designed mid-size SUVs on the road. Take a test drive at North Central Ford. You'll love our deals.