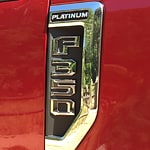 There are times when you need a truck that is designed to do more than just take you from one place to another. You need something that is rugged enough to get virtually any job done that you have decided to undertake. With the Ford Super Duty, you get a popular full-size truck that can do exactly that.
Feel free to take some recreational vehicles or a boat with you when you drive the Super Duty on a weekend outing. You can benefit from the available Trailer Reverse Guidance system. You will gain a full-color view of the rear, while the system will help guide the trailer into the proper spot.
You are also able to store your personal items under the rear seat in a variety of different ways. Check out the locking compartment that is tucked underneath the seat for an example. Please stop by North Central Ford when you have a moment and take this truck on a test drive.