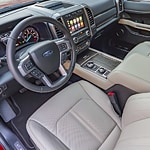 What features do you look for in an SUV? There's a good chance that the Ford Expedition has what you need and want. It's a full-size SUV that's popular for its tremendous size and robust features.
Premium Off-Road Shocks

If you want predictability and durability when driving, you can have it! That's because of the premium off-road shocks in the Expedition, which also facilitates outstanding shock absorption. The premium quality of this feature contributes to the Expedition's exceptional performance.

360-Degree Camera

?The 360-degree camera in the Expedition will be a reason why you feel a bit more confident when reversing. This feature uses several cameras to provide a much clearer view of other vehicles that might be approaching you from the rear.
Now is a good time to find out about the Ford Expedition firsthand. You can do this by taking it for a test drive here at North Central Ford.